Write high-performance content
for your website
Choose the right words to improve your ranking on search engines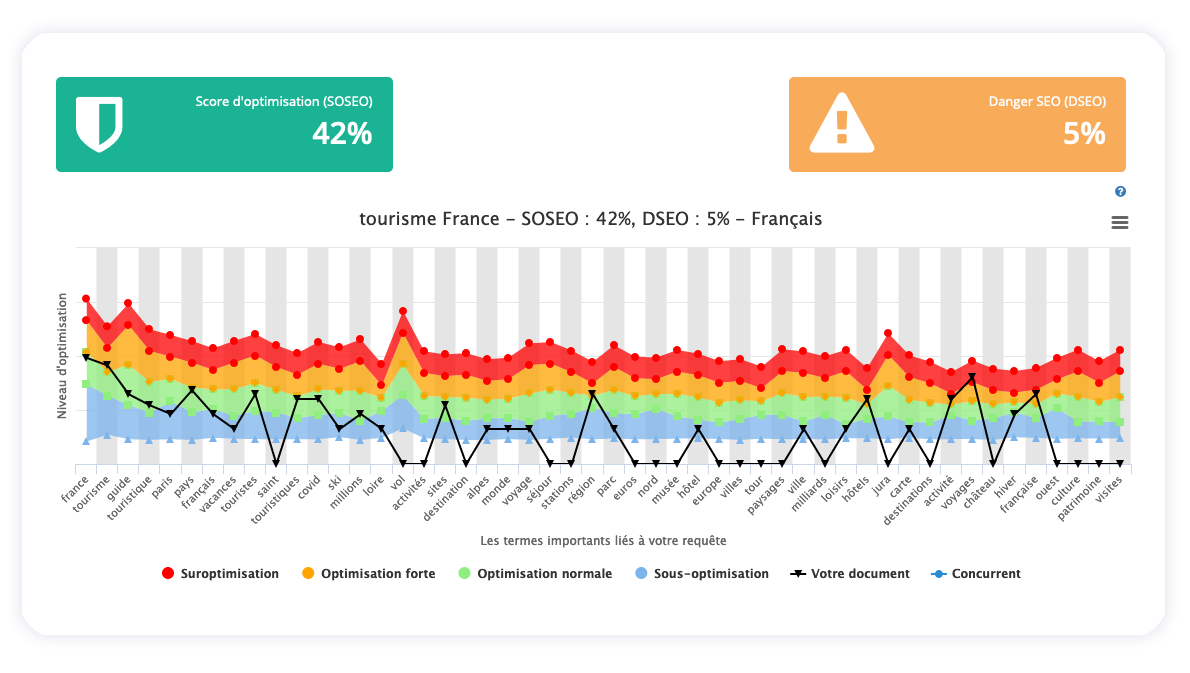 yourtext.guru
SEO writing assistance
We give you the words to use to make the difference in your texts, with the possibility of obtaining a fine analysis of your writings.
It is ideal to better understand your texts from an SEO point of view, as well as to analyze those of your competitors.

yourtext.guru
No commitment
Our subscription is monthly, with automatic renewal... that can be stopped at any time.
We even offer a token-based usage mode for those who need less volume.

yourtext.guru
A complete toolbox
We help you to find ideas to exploit in your texts: questions, entities, suggestions?
Make a topical mesh or flesh out a text, yourtext.guru has proposals to make.
Why is yourtext.guru now a must-have?
Happy Customers
Web editors, SEO in agencies, freelancers, web marketers, online stores. Everyone finds the functionality they need.
Realistic writing assistance
Through our writing guides and the analysis tool, writers always have an SEO objective in mind, but write with the style they want, with the desire that drives them. We guide, we do not constrain.
Even more
Yourtext.guru provides many additional and useful tools to help you write better.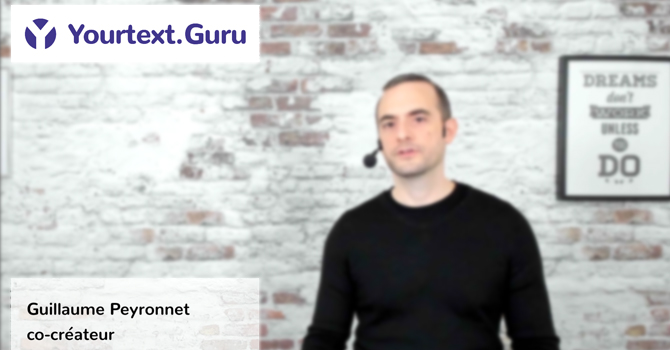 Token rates and subscriptions
All our prices are indicated exclusive of tax.

Pack 200 tokens
99€
excl. VAT, for one user
1 guide = 5 tokens
Semantic analysis of texts
Top 10 SERP
Topical Mesh
Entities since analysis (FR/US)

Idea Module

Question explorer

Access via the web interface
Token validity: 1 year

Unlimited subscription
80€
excl. VAT, monthly, for one user
Unlimited guides
Semantic analysis of texts
Top 10 SERP
Topical Mesh
Entity Explorer (FR/US)
Ideas Module (FR/US)
Question Explorer (FR/US)
Access via the web interface
Without commitment

API subscription
300€
excl. VAT, monthly
Unlimited guides
Semantic analysis of texts
Top 10 SERP
Topical Mesh
Entity Explorer (FR/US)
Ideas Module (FR/US)
Question Explorer (FR/US)
Access via the web interface and API
Without commitment
Frequently Asked Questions
How long does a subscription last?
The subscription is done online for a period of one month, with automatic renewal. Payment is made at the beginning of each period. You can cancel the subscription at any time, directly online via the customer area: this causes the renewal to stop and you will have access to the tool until the end of the current period. If you had tokens before, they will be visible again and you will be able to use them.
Subscribing seems more advantageous than using tokens?
Indeed, as soon as you plan to generate more than a certain number of guides per month, it is much more interesting to be a subscriber. It's better for you financially and it's also better for us because we believe that to get the best results you need to be able to use yourtext.guru without constraints. A customer who gets better results is a happy and loyal customer :)
How to automate repetitive tasks in yourtext.guru?
We offer an API subscription that allows you, once a connector has been developed on your side, to programmatically use yourtext.guru with only one constraint: a rate limit.
How many people can use an account?
An account is linked to a single physical person, a single email. In order to make life easier for everyone, we are currently working on a team functionality, which will allow several accounts to work hand in hand.
Which payment methods are accepted?
For the purchase of token packs, payment is possible by credit card and Paypal. For monthly subscriptions, payment is handled by Stripe, by credit card only.
We offer payment by bank transfer for annual subscriptions or token packs starting at 500 tokens (please contact support).
What are the available languages to generate guides?
French (France, Belgium, Switzerland, Canada, Luxembourg, Morocco), English (USA, Great Britain, Australia, Canada), Spanish (Spain, Mexico, Colombia, Argentina, Chile), German (Germany, Switzerland, Austria), Italian (Italy), Portuguese (Portugal, Brazil), Dutch, Polish, Romanian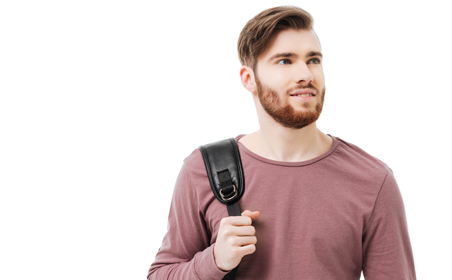 Getting started with yourtext.guru
Train yourself in the blink of an eye
thanks to our video tutorials.
Watch the tutorials!
Quick Start
Three steps to start semantic optimization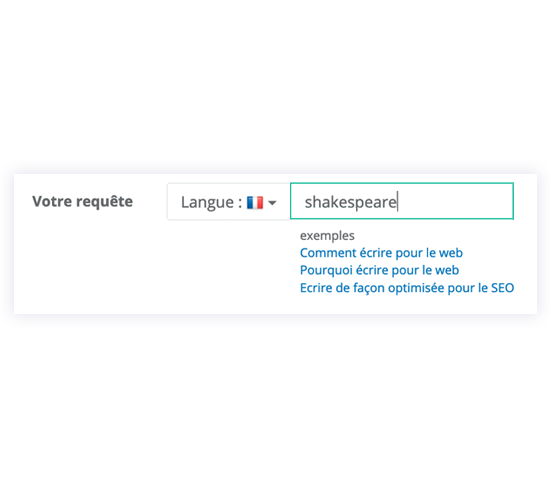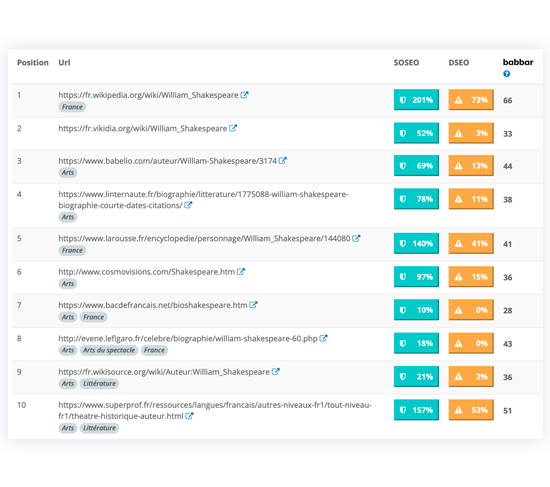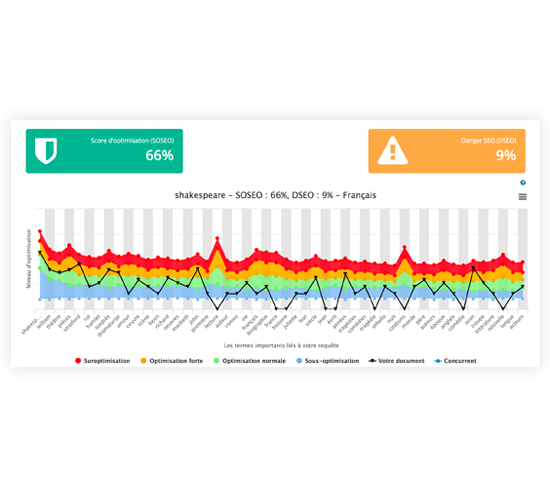 I have worked with YourTextGuru on several occasions throughout my professional background. Today, it is a central tool in my content creation strategy. It is an ideal tool for creation of briefs. Since we use the API coupled with Tableau, the added value of the tool has taken on another dimension. Whether it is to monitor the SERP and thus the competition, or understand the search intentions hidden behind an expression in order to better understand the optimize the contents of our sites, don't look any further, it's with YourtextGuru that you will find your answer. In short, YourTextGuru us helps to keep one step ahead of our competitors!
I was able to access YourText Guru early. This allowed me to take the tool in hand, to test it, but above all to build more complete writing guides for the writers I work with. And then I was also able to measure the efficiency of the support of the team that created this tool that every SEO should test. I go further: any webmarketer should have tested the possibilities offered by YourText Guru.
After testing YourTextGuru for several weeks and in different configurations, I highly recommend it for writing support. Clients to whom I have sent guides have written effective texts without having to spend hours as before. They really felt they were being guided to write each paragraph and the comfort of no longer needing to count the occurrences of their key phrases was a real plus for the product. They regained the pleasure of talking about their job.
I tried all the semantic analysis tools and I chose Yourtextguru for several reasons. The main one is the result obtained on the SERPS, notable gains of positions in a few weeks. The simplicity and the speed of the tool to generate guides, the pdf obtained is really useful for the editors and the customers. The other features are not left out, such as the semantic proximity analysis and the question explorer. In short, a must have in the plethora of SEO tools.
As a web SEO specialist, I use YourText.Guru on a daily basis to optimize the texts and content of my clients' pages and I am very satisfied with it. This precise optimization allows to gain places in search engines and to obtain more visibility on a given query. YourText.Guru has become a tool that I cannot do without. Very complete, it contributes to the success of my clients on the web and to the development of my business. Finally, I would like to add that thanks to the whole team, I am lucky enough to be able to teach the use of YourText.Guru in universities and business schools.-